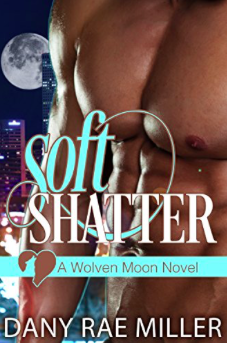 Get It Free On Kindle
Three alpha males vie for the love of one woman. Each loves her in their own special way and each wants her for keeps. Shavone, though, just wants to find her sister, and does whatever it takes to get the answers she wants. But sometimes getting what you want isn't as wonderful as you'd thought it would be.
Which wolf would you choose?
Are you sure?
FROM THE AUTHOR:
If you love epic sagas that pull you into a world of drama and characters you love and love to hate, you're going to adore Wolven Moon.
Fair disclosure: Wolven Moon isn't your momma's romance. The language is adult and the heat levels high. In fact, Soft Shatter includes an MFM ménage love scene. It's vivid and four chapters long, but it's crucial to the love story and the paranormal story, and explains about …… Well, you'll see. Find a comfy place to read and come on in.
***Click the special link inside the Soft Shatter ebook and, abracadabra, Dany Rae will send you a free bonus book.***
Wolven Moon reading order
Soft Shatter [Look for a free bonus book offer inside the ebook.]
Soft Fate
Accidental Lovers (can be read as a standalone)
Soft Pleasure
Soft Seduction
** Due to vivid love scenes and naughty language, Wolven Moon novels are intended for readers ages 18+. **
Get It Free On Kindle and of course visit us on Facebook for a giveaway of Soft Fate (Wolven Moon Book 2).